but it was the "best weekend EVER" for Dylan. My baby turned 8 on Friday so we celebrated by letting him invite boys over for a slumber party & then skating the next day. Six invitations went out with the assumption that not all would come but we ended up having 5 additional boys at our house! Talk about noisey & rowdy! They stayed pretty amused playing Wii, legos, & air hockey - I just had to settle them down a few times. Funny thing was- Kalli got along really well too. I had thought she would retreat to her room while they were there but she ended up playing right along with them. Lexi & Riley even came over for a while too. But as much fun as Dylan had, I assured him 5 boys at one time was a one & only time thing. :)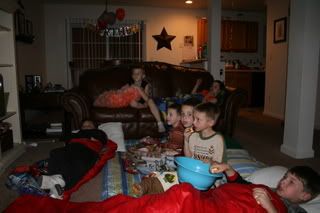 And my very exhausted "big" 8 year old:
Here's a little funny from the weekend before when Lexi & Riley spent the night.
And a little bit of scrappiness (done on Saturday after all the company left!).