Since I'm just now getting around to posting my pictures from the cruise, I'm doing a bit of touching the high points of the trip.
1) The ship was huge. Seriously we were on there 7 days & know that we did not see everything on the ship.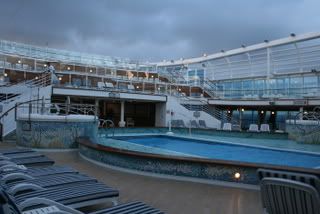 2) The entertainment was good. Loved the goofy cruise director & his assistant.
3) The food was a bit odd at times but I'll have to say that I've tried more in that 7 days than I usually do. Some good, some not so good.
4) I was shocked by the work atmosphere on the boat. Seriously those people work their tail end off & hardly get a break. Maybe some of these lazy youwhos around here should be put on a ship & taught how to wait on people!
5) Bahamas was beautiful. It was so cool that rather than pulling the big ship up to the island, they put us in smaller boats & drove us over. Very cool. This was where we got to eat the BBQ right on the island, shop at some vendor shops & then swim. During the swim we came across some friendly fish. :) It was so cool to be in water over waist high but see all the way through the water....just a little freaky when those Nemo looking fish started following us. I dread that I didn't have a water camera then to get pictures of them. There was a ton of them!
6) "At sea" days were okay but by time we hit shore, we were ready to get out & explore. We had a wonderful formal night on one of the at sea days. Really not my favorite thing but it gave us something to do. We also had a casino on board so we went there a few times but didn't win anything.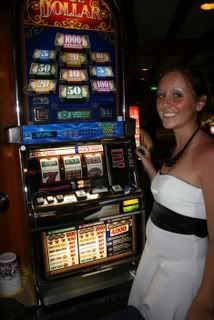 7) St. Maarten was the stop we had set up our shore excursion. From experience we know it's better to just arrange island travel there rather than those excursions. We got to hit a few shopping spots, see both the French & Dutch sides of the islands, and then make our last stop at Orient Beach. So very pretty! Still I was amazed at how beautiful the water was.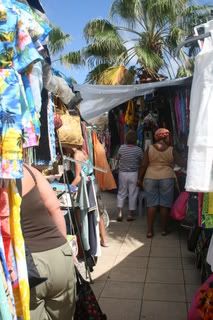 8) St. Thomas was seriously a WORK OUT! I don't think I've ever walked so much in my entire life. We walked & shopped & walked some more. Very cool place especially since we got to use our cells & call home.
9) Grand Turk was by far my favorite stop. Not a whole lot of shops & their items were priced & not argued. Plus there was a beautiful pool in which I spent a couple hours relaxing by. I only wish that I had explored a little more before time to board the ship. We came across a less traveled area along the edge of the island & got to watch the waves crashing into the rocks which was absolutely AMAZING!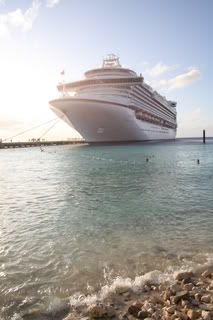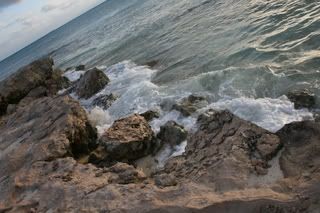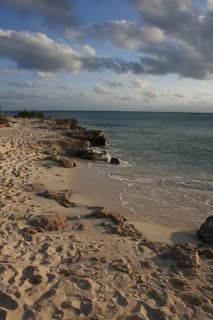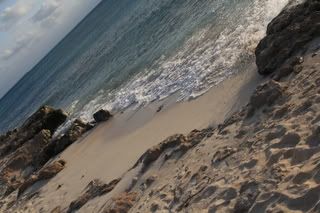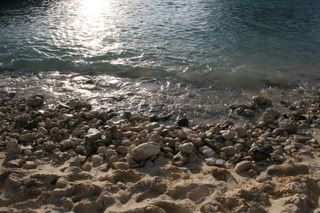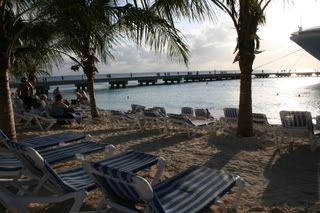 10) Coming home we had a horrible time. We got off the boat around 8 am to be at the airport for our 11:10 flight. That flight ended up being delayed until 1:45 therefore causing us to miss our 3:00 connection in Atlanta. Our final flight home from Atlanta didn't leave until 8:40. And come to find out - my luggage was damaged. Thankfully though after hours in the airports, we were home & so happy to see our families!
Halloween snuck right up on me when I got home & we found ourselves scrambling to get the kids costumes. Kalli decided on a spider witch & Dylan was set on his bloody Scream face.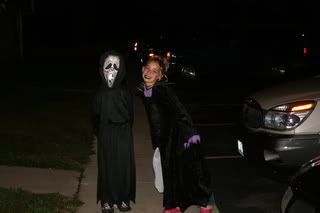 And I have to admit, they were pretty cute! :)
I don't think I've quite caught up on everything but did pick up a new love - the Twilight series books. I had the first book down in 3 days and am just waiting to borrow the 2nd to read. I'm usually not a big reader but this one pulled me in. And in finding this, I think I've found the perfect gift for my sister!
And I can't wait until it hits the theatre!