Not much up since the last post except I JUST GOT BACK FROM MY VACATION TO
CANCUN.
Me & Tiffany flew out on July 26 from the Springfield airport. We had a connecting flight so we hit Memphis & then straight to Mexico we went. Definately a whole new world out there. The most amazing was how stinkin' HOT it was. Like you would walk outside & immediately be sweating & feeling like your cheeks were burning. Yet people who live there were walking around fully clothed in jeans & long sleeved shirts.
Our hotel was really awesome.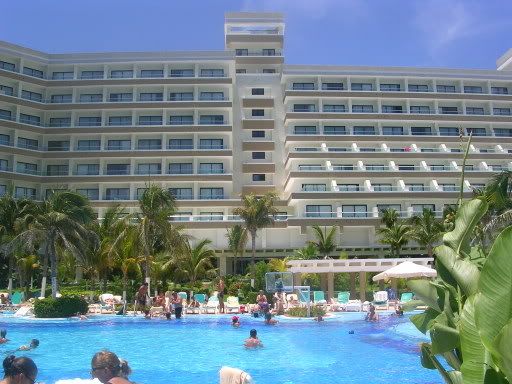 We had a beautiful oceanfront view from our 7th floor room & were able to capture some really cool photos.
Only thing we didn't care for was the toliet not working the first two days (which we kept on them until finally we were in working order) and the food was really not that great at all.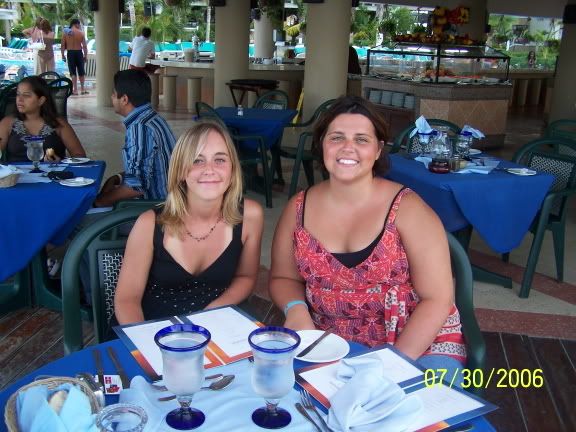 We had thought with it being all inclusive, we'd eat like crazy & try all kinds of yummy new things. That wasn't what happened. We actually ate less than normal (lived on the chips and guacamole) and drank less too (pop, that is). And we didn't even have mexican food at our hotel (okay besides the chips & guacamole).
Is that not completely crazy? We're in Mexico and don't even get to pig out on Mexican food.
I did, however, finally get some fajitas when we went out one night & ate at Planet Hollywood.
Funniest was that we were always questioned on if we spoke spanish. We had a couple times the waiter would come up to us, say something in Spanish, & we'd be like "yeah, we're done with our plates, you can take them" but as we found out - that wasn't what he was even saying. He was actually complimenting us "pretty chicos".
Another funny was when we both seriously got worried that we were going to get scammed. We had been walking along the beach when some guy came down and gave us a price list for a massage. They were offering a free 5 minute massage and tried to entice you into buying the full body massage (which wasn't bad - 1 hr for a full body massage = $45). Well after our 5 minutes we were all into getting our massages, right there in a hut on the beach. So, without thinking, we both strip down to bathing suits and stack clothes and wallets on a seat at the end of the massage tables (
YEAH! NOW I KNOW HOW CRAZY WE WERE!
). Then we both hop right up on the tables face down without even thinking about what may happen to our stuff. The massage was AWESOME and felt so good but we were like grease balls walking out of there.
All in all, it was a great trip. I really missed my kids but it was nice to get away too & just relax. We got to see some pretty sights and just take time for ourselves so that was awesome.